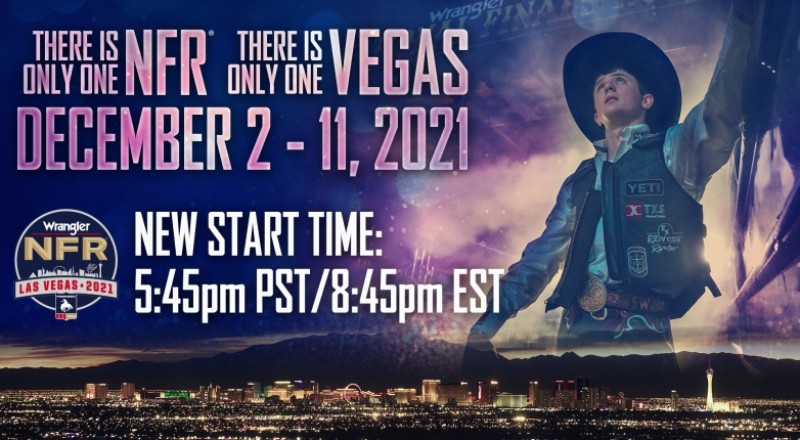 Wrangler National Finals Rodeo Start Time Moves to 5:45 p.m. PST/8:45 p.m. EST
LAS VEGAS
The ProRodeo Cowboys Association® and Las Vegas Events announced today that the 2021 Wrangler National Finals Rodeo® will start at 5:45 p.m. PST/8:45 p.m. EST.
The Wrangler NFR, which returns to the Thomas & Mack Center in Las Vegas Dec. 2-11, will feature the top 120 contestants in the world for a 10-day competition to determine the winners of the coveted PRCA Gold Buckle and a share of the $10.257 million purse. In its previous 35 years in Las Vegas, total attendance has reached nearly six million fans.
"Moving up the start time an hour is a game-changer for our national television audience," stated Patrick Gottsch, Founder & President of The Cowboy Channel. "In 2020, we were able to more than double the 2019 ratings. That audience will carry over to the 2021 broadcasts, and moving up the start time just this one hour will help RFD-TV and The Cowboy Channel keep those viewers engaged, thus creating more rodeo fans."
"To accommodate the greatest number of fans interested in watching the NFR, the PRCA and The Cowboy Channel requested an earlier start time which we felt was reasonable," said LVE President Pat Christenson.
In 2019, the event had a total attendance of 168,289 over the 10 days of competition at the Thomas & Mack Center and has sold out more than 330 consecutive performances in Las Vegas.
The Cowboy Channel is the official network partner of PRORODEO and the exclusive broadcast and streaming partner of the Wrangler NFR. Live coverage of the Wrangler NFR can be found on The Cowboy Channel and RFD-TV through its cable and satellite partners and online at
cowboychannelplus.com
and additional streaming service platforms.
For more information on the Wrangler NFR, please visit
NFRexperience.com
or through social media at /LasVegasNFR and use #WranglerNFR. For the latest PRORODEO news and Wrangler NFR coverage, please visit
prorodeo.com
or through social media @PRCA_ProRodeo.