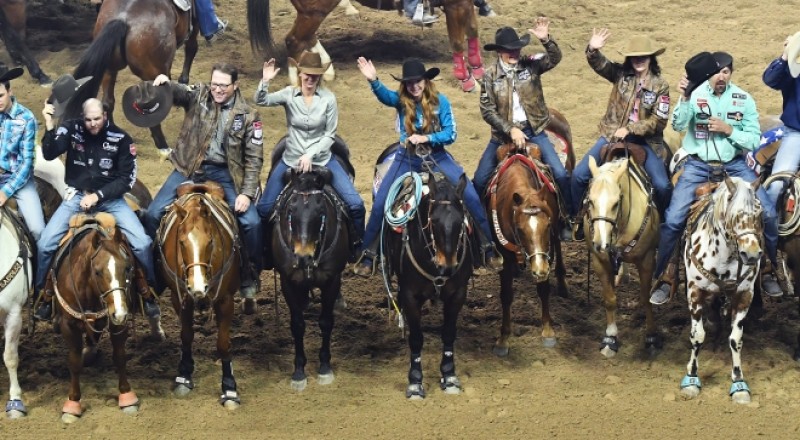 Wrangler National Finals Rodeo and The Cowboy Channel Cowboy Christmas Wrap Up Their Returns to Las Vegas
LAS VEGAS
The Wrangler National Finals Rodeo, which ran from Dec. 2 – 11, wrapped up its ten-day run at the Thomas & Mack Center in Las Vegas and The Cowboy Channel Cowboy Christmas culminated after 11 straight days at the Las Vegas Convention Center. Both had impressive total attendance numbers.
For the Wrangler NFR, total attendance over the ten performances reached
169,539
, up from 168,289 in 2019. The total attendance on the final performance on Dec. 11 was 17,373, the highest single-day attendance figure since 2014 which was prior to the renovation of the arena that limited total seating capacity. Since the Wrangler NFR's arrival in Las Vegas in 1985, total attendance for the 36 years at the Thomas & Mack Center has surpassed 6.1 million.
In addition to the rodeo action, the NFR Experience events up and down the Las Vegas Strip and downtown culminated on Saturday evening. Over the ten days of the Wrangler NFR, there were more than 70 concerts and 30 locations that offered the live satellite feed of the rodeo.
The action on the dirt was competitive and intense from start to finish, with 119 total contestants vying for the coveted PRCA Gold Buckle. At the end, the following earned the title of world champion:
Kaycee Feild,
bareback riding;
Tyler Waguespack
, steer wrestling;
Kaleb Driggers
(header) and
Junior Nogueira
(heeler), team roping;
Stetson Wright,
saddle bronc riding;
Caleb Smidt
, tie-down roping;
Jordon Briggs
, barrel racing and
Sage Kimzey
, bull riding.
Stetson Wright
also claimed the All-Around title. For the full recap, click
here
. Video highlights are available
here
.
Meanwhile, the 11 days of shopping and entertainment at The Cowboy Channel Cowboy Christmas also culminated on Dec. 11. The official gift show of the Wrangler NFR featured more than 350 exhibitors from across the U.S. Total attendance at the South Halls of the Las Vegas Convention Center – which incorporates both The Cowboy Channel Cowboy Christmas and the Rocky Mountain Elk Foundation Hunter & Outdoor Christmas Expo – was 241,522. Over the past 35 years, Cowboy Christmas has attracted more than 4.9 million attendees.
Known as the richest and most prestigious rodeo in the world, the Wrangler NFR attracts the top 15 contestants in each event to compete for a share of the $10.257 million purse.
For more information on the Wrangler NFR and Cowboy Christmas, please visit
NFRexperience.com
or through social media at /LasVegasNFR and use #WranglerNFR. For the latest Pro Rodeo news and Wrangler NFR coverage, please visit
www.prorodeo.com
or through social media at @PRCA_ProRodeo.