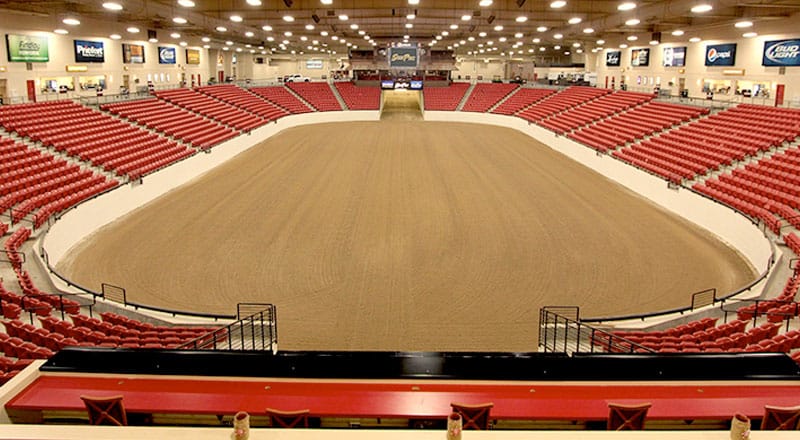 South Point Arena & Equestrian Center Receives "Facility of the Year" Award
LAS VEGAS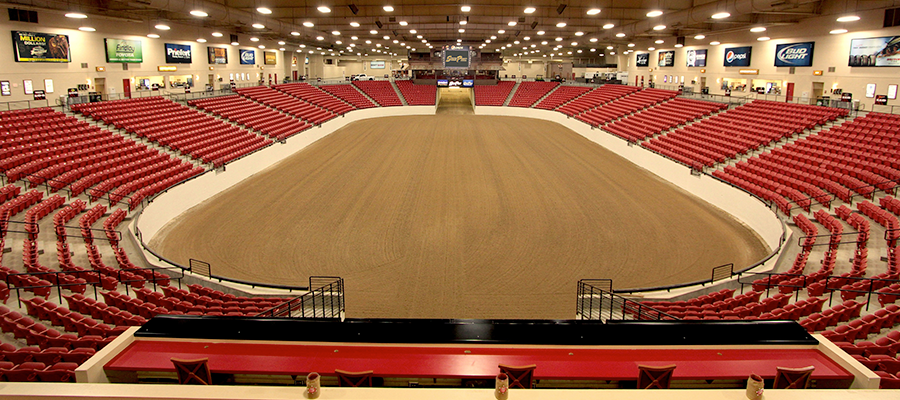 The League of Agricultural and Equine Centers (The League) presents South Point Arena & Equestrian Center with "Facility of the Year" Award, in recognition for the center's commitment to the equestrian industry and excellence in the management and operation of an equestrian facility.
"The Facility of the Year Award is presented to a facility based upon operational excellence, professional development, safety and security and service to the community and South Point Arena & Equestrian Center exemplifies those attributes," says Jennifer Bexley, Chairman of the Board of the League of Agricultural Centers and Chairman of the Awards Committee.
"Michael and Paula Gaughan had a very clear vision for this property since the beginning, and it was to create a one-of-a-kind facility that would not only help expand the equestrian industry but also serve as a home away from home for the participants and their animals," said Steve Stallworth, General Manager of South Point Arena & Equestrian Center. "It is an honor to receive this award on behalf of my team, and we look forward to the future and being part of the continued growth of this remarkable industry."
As one of the premier equestrian facilities in the industry, South Point Arena is home to 240,000 square feet of event space featuring three climate-controlled arenas, 4,500 seats in the Main Arena and two arenas in the Priefert Pavilion. The Equestrian Center also features a vet clinic, feed store and Cinch Saloon. Unlike other properties, South Point Arena's horse valet, located adjacent to 1,200 climate-controlled stalls, offers a convenient way to check into the show and hotel at the same time while having unlimited access to the stables. In addition, the stall area offers 24-hour security monitoring to offer sense of comfort that allows guests to focus on the competition ahead without having to worry about the wellbeing of their horses.
As part of a multi-million dollar expansion the past two years, the complex has added new LED lighting throughout the arenas and barns, a state-of-the-art Daktronics video board, and more than 25 acres of parking for horse trailers. The South Point Arena and Equestrian Center will host over 40 weeks of equestrian events in 2019 alone.
"South Point's motto is 'Find a way to say yes,' and both the Awards Committee and the entire Board of the League were impressed with their application and examples in ways they say 'yes' to facilitate memorable events at their facility," said Bexley. "We are proud to have them as a League member."
Facilities applying for the honor must submit a very lengthy and detailed application that is reviewed and ultimately voted upon by the League's Board of Directors and Awards Committee.
For more information on upcoming events and the South Point Arena and Equestrian Center, please visit the Arena website.
About South Point Hotel, Casino & Spa
Featuring more than 2,100 guestrooms, South Point Hotel, Casino & Spa overlooks the famous Las Vegas Strip and the serenity of the surrounding mountainscape. Each oversized guest room features state-of-the-art LED televisions as well as WiFi with high-speed internet connections. Guests visiting South Point will experience affordable luxury through a casino offering top-of-the-line gaming technology, more than 60 table games and a separate race and sports book area, 11 restaurants, including the award-winning Michael's Gourmet Room, the world-class Costa Del Sur Spa and Salon, a 400-seat showroom featuring headliner entertainment, a 700-seat Bingo room, a 16-screen Cinemark movie complex, a state-of-the-art 64-lane bowling center, a 52,000-square foot Conference Center and an 80,000-square foot Exhibit Hall. South Point Hotel is also home to the Tournament Bowling Plaza, a multi-million dollar professional bowling tournament facility. In addition, South Point has the finest equestrian event facility in the country. The 240,000 square feet of event space features three climate-controlled arenas, vet clinic, feed store, more than 1,200 climate-controlled stalls and plays host to some of the country's most unique events. South Point Hotel, Casino & Spa is at 9777 Las Vegas Blvd. South, Las Vegas, NV 89183.
For more information or for room reservations, call (702) 796-7111 or visit the South Point Hotel, Casino & Spa website. Connect with South Point on Facebook, Twitter, YouTube, and Instagram.
South Point Hotel Media Contact
Jaclyn Dadas / Summer Vieites
southpointpr@kirvindoak.com
(702) 737-3100
Lynne Ravenscraft, Director of Marketing
Ravenscraftl@southpointcasino.com