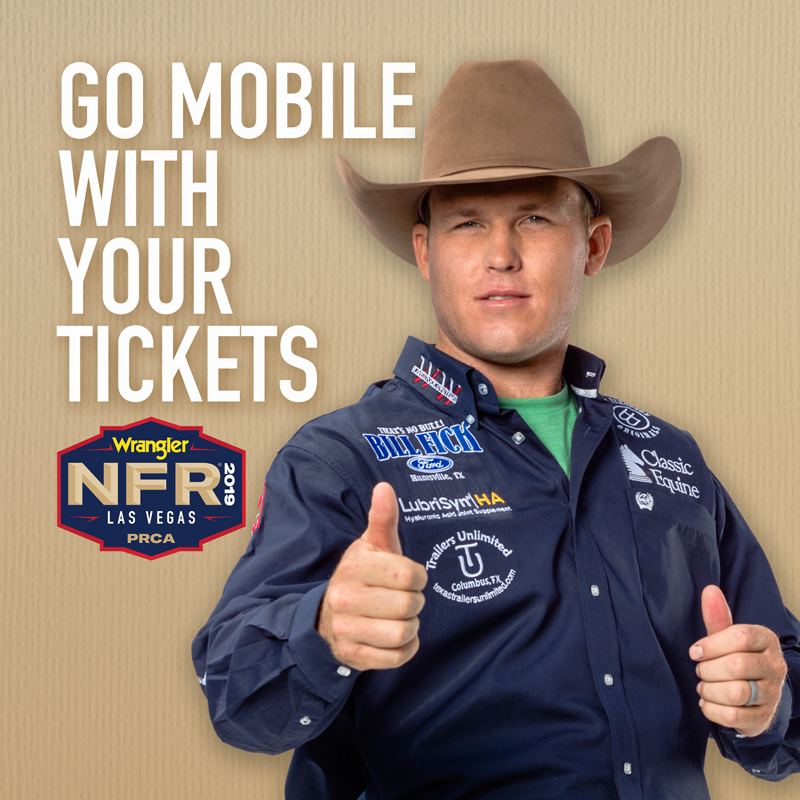 As a Season Ticket Holder,
you will continue to receive a traditional souvenir-style printed paper ticket booklet(s)
for the seat(s) in your account
and you may continue to use these "hard" printed souvenir tickets for distribution and event entry
, the same as you have in past years.
Once you have successfully logged into your account you will be able to manage tickets online.
You will manage your account by going to NFRexperience.com/tickets or via the NFR App (available October 7, 2019).


Mobile Tickets on Your Smart Phone
You can also access your account/tickets on a mobile phone (and tablets). Use your smart mobile phone and go to the
NFR app
or
www.NFRexperience.com/tickets
to login and manage your National Finals Rodeo Season Tickets online.
View the tickets in your account
Use your smart mobile device to enter the arena for NFR events
Post tickets for resale on StubHub the Official Secondary & Fan-to-Fan Site for the NFR

Access the Arena with Your Smart Phone
You no longer need your printed souvenir ticket to access the Thomas & Mack Center for NFR performances. If you choose, you may use your smart phone to display a valid barcode to be scanned for entry. If you forget your tickets or just choose this method of entry for convenience, simply follow the steps previously indicated to access your tickets on your phone.
If you plan to use your smart phone for entry, please be certain that you have not distributed the printed paper hard ticket to anyone else.
Note: your printed souvenir hard ticket remains valid until your mobile ticket is used for entry (and vice versa).
Either the mobile ticket or the printed souvenir ticket will be accepted,
not both
. The system only allows one admission per barcode, regardless of the method of entry chosen by you.
FAQ
Q: What happens if I enter the arena using my smart phone and I accidentally gave my printed souvenir ticket to a friend for admission?

A: For your convenience both the printed souvenir ticket and your smart phone can be used for entry, whichever arrives first will be admitted and the other will be declined entry. Each seat purchased for a given NFR performance is good for one admission only. It is incumbent upon you to keep track of your own ticket usage and to secure your printed souvenir tickets safely.