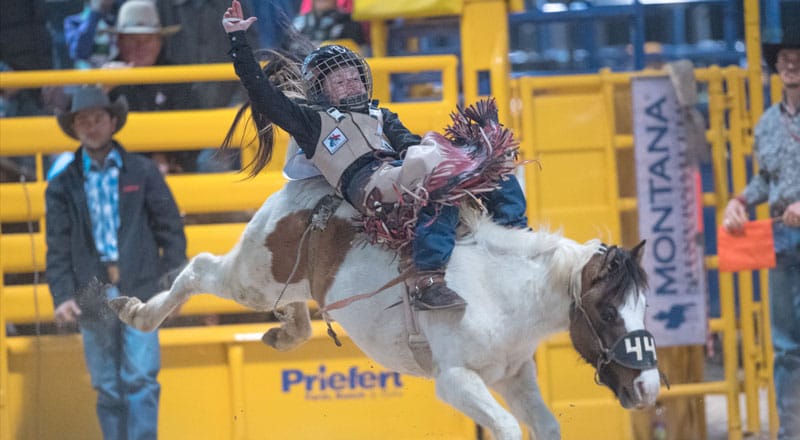 Junior NFR inside the Wrangler Rodeo Arena at Cowboy Christmas Set to Run for Ten Straight Days of Competition
LAS VEGAS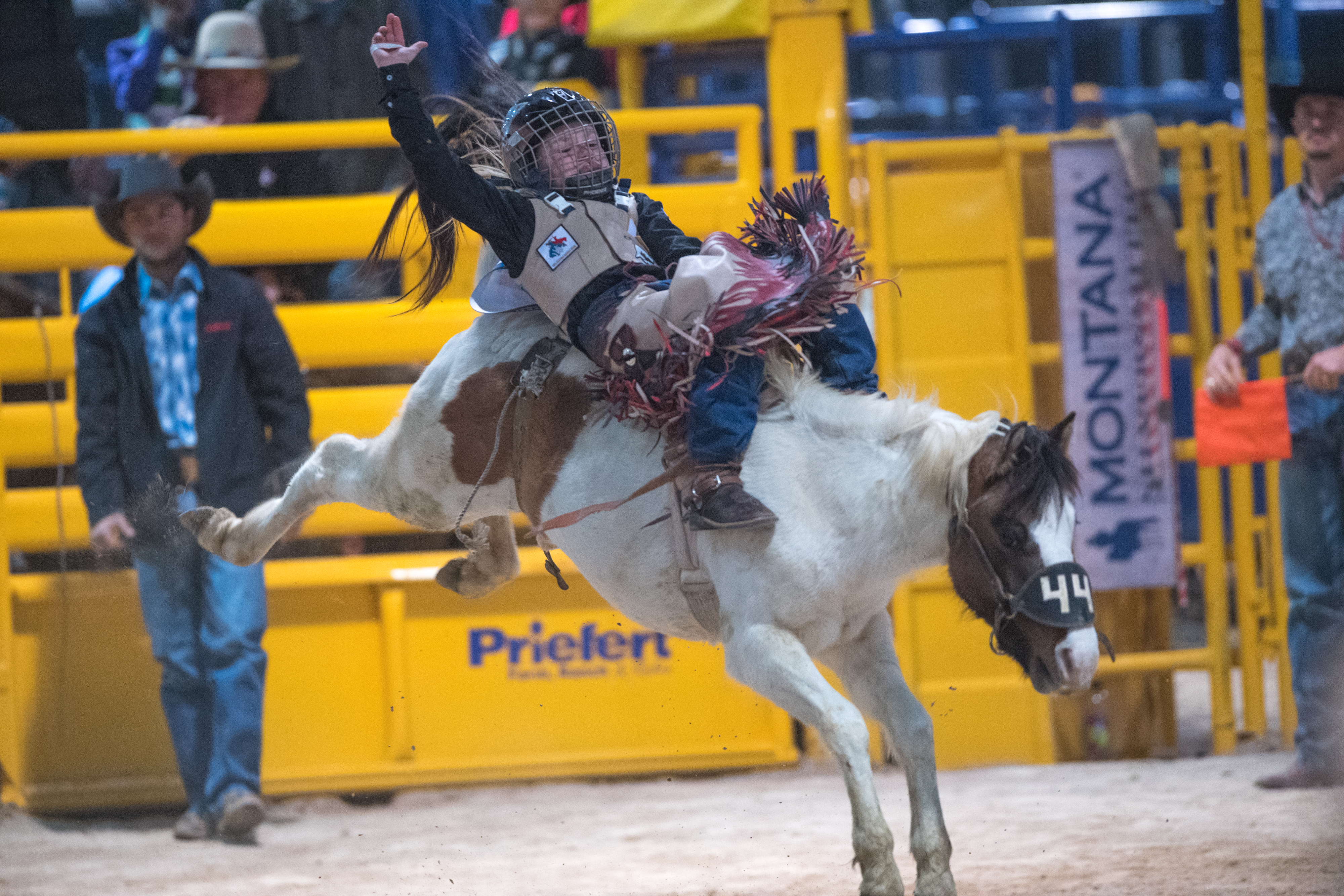 Wrangler Rodeo Arena, one of the six main interactive features of Cowboy Christmas, will host more than 650 youth contestants in the Junior NFR presented by YETI vying for championships in eight events. The Junior NFR will run concurrently with Cowboy Christmas and the Wrangler National Finals Rodeo, Dec. 6 – 15.
Additional events to be held in the Wrangler Arena include
Exceptional Rodeo presented by NV Energy
on Dec. 10 at 10:30 a.m. PT and the
Flag Girl Competition
on Dec. 11 at 12:30 p.m. PT. In addition, the return of the Priefert Platform allows fans to watch the action from a raised VIP area overlooking the arena, with limited front-row seats on the rail.
Free to the public, Cowboy Christmas will be open 9 a.m. – 5 p.m. at the Las Vegas Convention Center. The Wrangler Rodeo Arena is located on the second floor of the South Halls within the footprint of RMEF's Hunter & Outdoor Christmas Expo and adjacent to Cowboy Christmas Too.
Wrangler Rodeo Arena, which boasts a seating capacity of more than 1,100, will host a variety of events and competitions. The Junior NFR presented by YETI will feature contestants 19-years-old and younger competing in many of the events the pros take part in at the Thomas & Mack Center, including Bull Riding, Bareback Riding, Saddle Bronc Riding, Junior Steer Wrestling, Girls and Boys Breakaway, Team Roping, Tie-Down Roping and Barrel Racing.
For more information on the Wrangler NFR, Cowboy Christmas and a complete Junior NFR presented by YETI schedule, visit
www.NFRexperience.com
or through social media at /LasVegasNFR and use #WranglerNFR.
General admission to the qualifiers is free, while the rough stock finals on Dec. 10 and timed-event finals on Dec. 15 will be $10 for general admission. Access to the Priefert Platform will be $20 all ten days of competition. All proceeds will become "added money" for each rodeo event.
In addition to Wrangler Rodeo Arena, Cowboy Christmas will include the following main anchor displays and programming elements:
• Rodeo Live presented by RODEOHOUSTON
– Daily features include Flint Rasmussen's "Outside the Barrel," RFD-TV's Western Sports Roundup and Rodeo Recess with host Andy Seiler. Daryle Singletary's Keepin' it Country with host Andy Griggs will be a tribute to the singer who tragically passed away in February;
• Coors Rodeo Saloon
– Every great "rodeo" needs a saloon. Located near the east end of Cowboy Christmas, the Saloon features food vendors and video screens with a replay of the prior night's Wrangler NFR performance;
• Rodeo Way
– This "Old West" setting features eight interactive industry and rodeo exhibits located at the east entrance of Cowboy Christmas;
• NFR Social Lounge
– This area will feature radio remotes, contestant and musician autograph sessions, giveaways and more;
• Great Wall of Rodeo presented by Calgary Stampede
– This fan favorite features a graphic of all Wrangler NFR contestants and other interactive elements.
Gold, Silver and Bronze buckle level and Junior NFR sponsors include 12 Gauge Ranch, Bex, Bloomer Trailers, Boot Barn, Browning, B&W Trailer Hitches, Cactus Ropes, Cactus Saddlery, Calgary Stampede, Classic Equine, Coors, Heel-O-Matic, Hesston by Massey Ferguson, Hooey, Impact Gel, Justin, Montana Silversmiths, NV Energy, Nevada State Bank, Outlaw Equine, Pendleton Whisky, Priefert, PrimeSport, Purina, Pro Fantasy Rodeo, Ram Rodeo, Reno Rodeo, Resistol, RFD-TV, RODEOHOUSTON, Rocky Mountain Elk Foundation, Rodeo Rigs, San Antonio Stock Show and Rodeo, Star Nursery, Total Feeds, Inc., Wrangler, YETI and Zesterra.
Cowboy Christmas brought record crowds to the Las Vegas Convention Center over the ten days in 2017. Total attendance reached 253,675, surpassing the previous record attendance of 231,517 set in 2016.
Sold out for more than 300 consecutive performances, the Wrangler NFR attracts the top 15 contestants in bareback riding, steer wrestling, team roping, saddle bronc riding, tie-down roping, barrel racing, and bull riding. Under the new contract with the Professional Rodeo Cowboys Association that runs through 2024, the purse in 2018 is $10 million. Qualification is based on the 2018 PRCA World Standings.