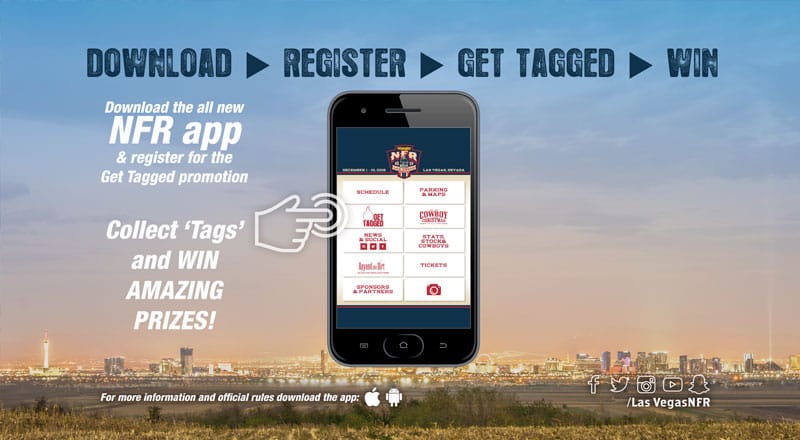 Redesigned NFR Mobile App Set to Debut Today
LAS VEGAS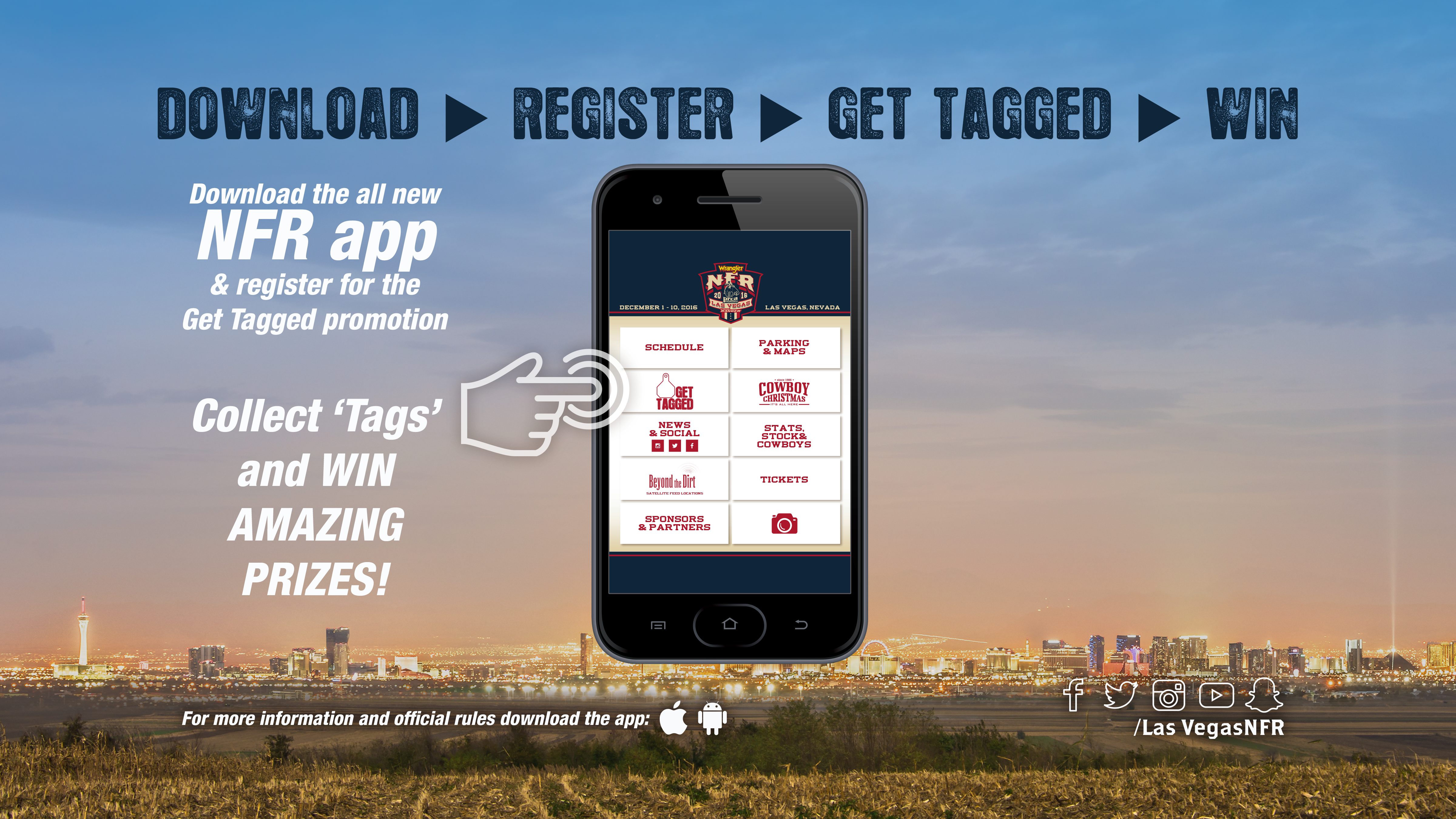 Rodeo fans will now be able to fully plan their rodeo experience in Las Vegas, which runs from Dec. 1 - 10 at the Thomas & Mack Center in Las Vegas.
New features in 2016 include enhanced schedule features and What's Hot category, custom NFR Experience camera function, parking and maps, Wrangler NFR Stats, Stock and Cowboys content buttons and News & Social feeds.
Rodeo fans can also sign up for the Get Tagged promotion through the NFR App. The contest allows fans to collect entries into the Prize Barn by attending NFR Experience events throughout the city during the ten days of the Wrangler NFR. Participating locations include:
• Cowboy Christmas, Las Vegas Convention Center, South Halls
- December 1 – 10; 9 a.m. – 5 p.m. PT
• Wrangler NFR, inside The 'Shoe at the Thomas & Mack Center
- December 1 – 10; 5 p.m. – 9 p.m. PT
Additional locations include select Wrangler NFR viewing parties at the following locations from December 1 – 10; 5 p.m. – 9 p.m. PT:
• Caesars Palace – Montecristo Cigar Bar
• The D Las Vegas – Downtown Las Vegas Events Center
• Gold Coast – Showroom
• Golden Nugget – The Showroom
• Hard Rock – Vinyl
• Harrah's Las Vegas – Toby Keith's I Love this Bar & Grill
• MGM Grand – David Cooperfield Theater
• Monte Carlo – Double Barrel Road House
• The Orleans – Mardi Gras Ballroom
• Treasure Island – Gilley's Saloon
Official rules can be found
here
. There is no purchase necessary to enter.
Each time a registered fan enters a designated location, the GPS-enabled technology will acknowledge that activity and provide an additional entry into the Prize Barn. Fans are able to collect 'tags' at the designated locations each day of the Wrangler NFR, Dec. 1-10. The more 'tags' fans are able to collect, the more chances to win. One first-place winner will receive a pair of all-session plaza tickets to the 2017 Wrangler NFR. Three secondary winners will receive a 2016 Wrangler NFR contestant jacket.
The NFR Experience Mobile Application is free and available on all platforms. iPhone users can search for NFR 2016 on the iPhone App Store or go
here
. Droid users can search for NFR in the Google Play Store or visit
here
.
Wrangler NFR fans, whether in Las Vegas for the rodeo or simply following the action from home, will be able to download the application for free. The NFR App will include the following features:
Schedule
– Provides a complete list of performance times, Wrangler NFR 9-5, NFR After Dark, Cowboys Christmas activities, What's Hot and allows fans to add events directly to their smart phone calendar;
Parking & Maps
– Includes parking details and maps for Cowboy Christmas, Thomas & Mack Center, Las Vegas and includes the NFR Express and Cowboy Christmas Express Shuttle Bus schedule;
Get Tagged
– Sign up for the ultimate NFR promotion that awards entries for great prizes by visiting specific events at partner hotels, Cowboy Christmas and the Thomas & Mack Center;
Cowboy Christmas
– Contains info about the official gift show of the Wrangler NFR and a full list of vendors and interactive areas, including booth number;
News & Social
– Sign up for push notifications, connect with fans and friends via social media and stay up-to-date on the Wrangler NFR;
Stats, Stock & Contestants
– Get stats, follow your favorite cowboy and look for match ups on the stock roster;
Beyond the Dirt
– No tickets? Find the perfect location to watch Beyond the Dirt, the live satellite of the Wrangler NFR;
Tickets
– FAQs, info on the NFR Online Ticket Exchange through our safe, secure and authentic portal and more;
Camera
– Use the custom NFR camera to share all of your memories;
Sponsors & Partners
– Connect to all of our key sponsors and supporters.
Sold out for 300 consecutive performances, the Wrangler NFR attracts the top 15 contestants in bareback riding, steer wrestling, team roping, saddle bronc riding, tie-down roping, barrel racing, and bull riding. Under the new contract with the Professional Rodeo Cowboys Association that runs through 2024, the purse in 2016 will jump to $10 million. Qualification is based on the 2016 PRCA World Standings.
For more information on the Wrangler NFR and Cowboy Christmas, please visit
www.NFRexperience.com
or through social media at /LasVegasNFR and use #WranglerNFR.
# # #
About Las Vegas Events
Las Vegas Events is a private, not-for-profit organization that serves as the exclusive major special events agency for the city. Founded in 1982, LVE is funded by hotel room tax. Through its Signature Event initiative, LVE has created a model to integrate all elements of special events and formally improve communication between event producers and Las Vegas' hotel properties and sponsors. Since 1991, Las Vegas Events has produced, presented or supported more than 700 events.
www.lasvegasevents.com
About the Wrangler NFR
The Wrangler National Finals Rodeo (NFR), considered the world's premier rodeo, features 10 straight days of the best in rodeo competition, with a total of 120 contestants competing every night in seven events. Each December, the top 15 contestants, based on the 2016 PRCA World Standings, in bareback riding, steer wrestling, team roping, saddle bronc riding, tie-down roping, barrel racing, and bull riding qualify to compete at the Wrangler NFR.
www.prorodeo.com