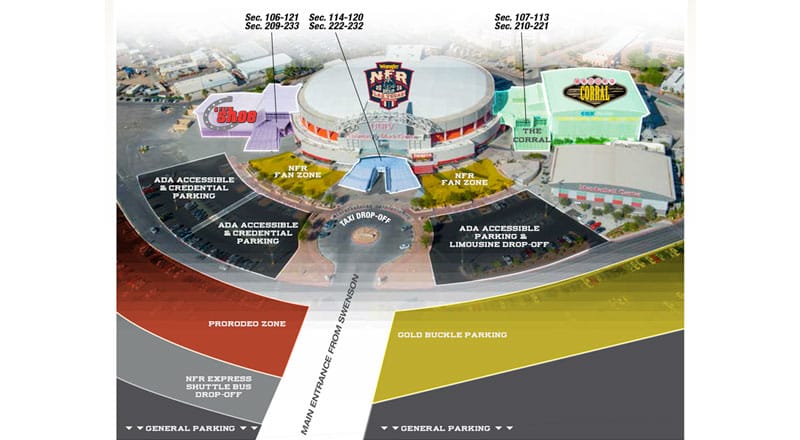 Renovated Thomas & Mack Center to Include The 'Shoe, a Bold New Fan Hospitality Area
LAS VEGAS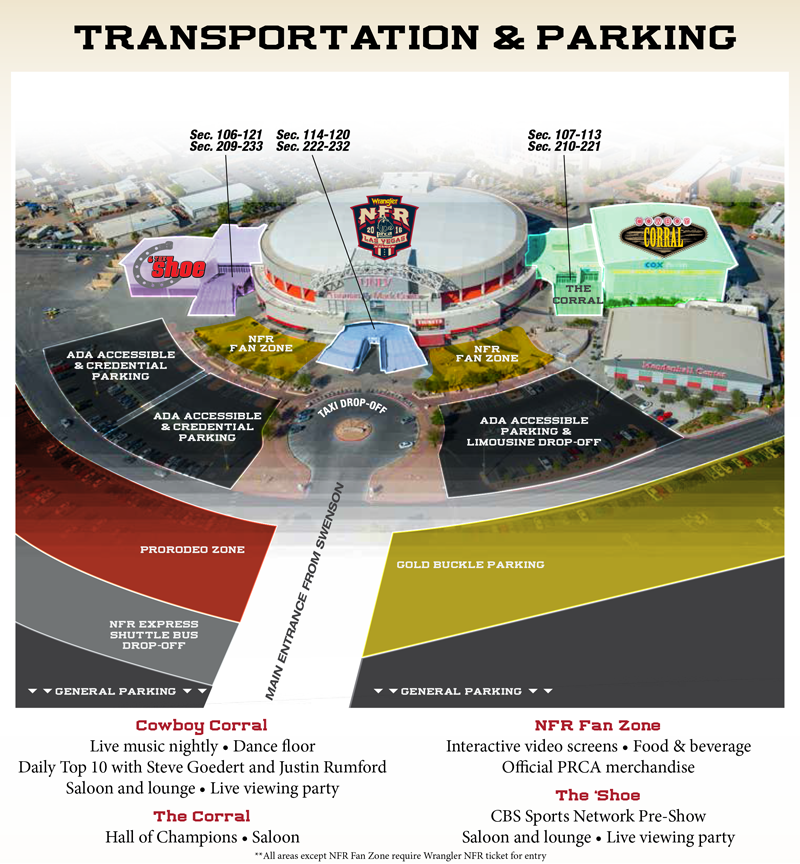 In 2015, the Thomas & Mack Center underwent a multi-million dollar renovation that included new seats, a wider concourse, upgraded restrooms and more concession stands. This year, Wrangler National Finals Rodeo fans also will be able to enjoy a new addition – The 'Shoe, a fully-themed Western hospitality and interactive experience that will also offer a new entry from the northwest end of the arena.
The 'Shoe will provide rodeo fans with another opportunity to enjoy the Wrangler NFR. The new 36,000-square-foot addition will feature a spectacular, unobstructed view of the Las Vegas Strip from the balcony. In addition, The 'Shoe will feature interactive areas, the Walk of Champions, saddle displays and plenty of televisions. The 'Shoe will also be the site of CBS Sports Network's rodeo pre-show.
The arena upgrades and the development of The 'Shoe are designed to evolve the fan experience at the Thomas & Mack Center.
"This year, fans will have the benefit of the renovation being 100 percent complete," said Pat Christenson, president of Las Vegas Events, which produces the WNFR. "There is no bigger priority for LVE than the fan. There are improvements fans will see from the time they arrive until they depart."
Perhaps as important, there also will be a new way to enter and exit the arena adjacent to The 'Shoe. Between expanding the concourse and the new entry point, the flow getting into, around and out of the rodeo on a nightly basis will be greatly improved. Also new this year, tickets will include the recommended entry location to help get fans to their seats as quickly and efficiently as possible.
Access to The 'Shoe is availble to all fans with a Wrangler NFR ticket for that evening's performance. The area will also feature the live broadcast of the rodeo each night, including live feeds of the different camera angles
Meanwhile, on the arena's southeast side opposite The 'Shoe, fans can enjoy all the activities and amenities of the returning Cowboy Corral, which takes over the adjacent Cox Pavilion with live music, a huge bar and plenty of space to sit and relax or kick up your heels. A new, similarly named space, The Corral, which is an extension of the Cowboy Corral, will offer its own bar and food service.
"The whole experience of watching and being a part of the Wrangler NFR is more convenient, seamless and entertaining than ever," Christenson added.
Sold out for 300 consecutive performances, the Wrangler NFR attracts the top 15 contestants in bareback riding, steer wrestling, team roping, saddle bronc riding, tie-down roping, barrel racing, and bull riding. Under the new contract with the Professional Rodeo Cowboys Association that runs through 2024, the purse in 2016 will jump to $10 million. Qualification is based on the 2016 PRCA World Standings.
For more information on the Wrangler NFR and Cowboy Christmas, please visit www.NFRexperience.com or through social media at /LasVegasNFR and use #WranglerNFR.
# # #