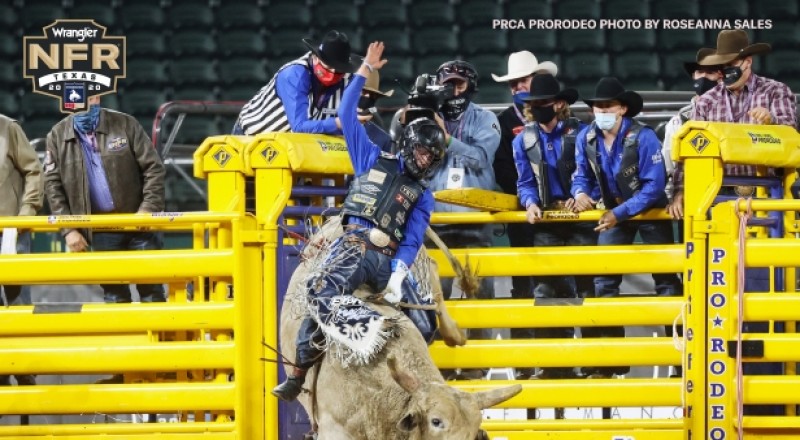 Stetson Wright Wins Round 1 in Bull Riding with Electrifying Ride
Arlington, TX
Courtesy of the PRCA
Doing double duty didn't faze Stetson Wright.
Wright, the first cowboy to qualify for multiple Wrangler National Finals Rodeo roughstock events since Jesse Bail in 2003, didn't miss a beat in Round 1 of the 2020 Wrangler NFR at Globe Life Field.
After narrowly missing out on placing in saddle bronc riding, the Milford, Utah, cowboy won the bull riding minutes later with a 90.5-point ride on Stockyards Pro Rodeo's Silver Lining.
"I feel good, and I hope I can win nine more, and I guess we will see," said Wright, 21. "I'm super happy about how this year is going as of right now and I feel healthy and am ready to rock."
The win, which garnered Wright 26,231 points, vaulted him into the lead in the all-around standings just ahead of Tuf Cooper, who failed to place in tie-down roping.
Wright is trying to become the first cowboy to win back-to-back all-around gold buckles since Trevor Brazile in 2014-15.
This is the second consecutive year Wright has won Round 1 in bull riding at the NFR. In 2019, as a rookie, he won Round 1 with an electric, 92.5-point ride on 4L & Diamond S Rodeo's Monte Walsh.
Wright said waiting all day to compete left him trying to find ways to stay calm.
"I was just nervous to get on my horse," he said. "As everyone knows, bronc riding makes me a little more nervous than the bull riding, so after I got off my bucking horse all my nerves were gone, and it was just fun after that. Bull riding just topped everything off for today. To me, it (winning Round 1) can make or break your whole week with how you start out, and that's how I've looked at it. I just wanted to start with a bang and hopefully keep the momentum rolling."
Wright had an 84-point ride in saddle bronc riding aboard Stace Smith Pro Rodeos' Flashcard.
Rusty Wright, Lefty Holman share saddle bronc riding victory
Stetson Wright wasn't the only Wright celebrating Thursday.
Rusty Wright, one of Stetson's older brothers, split the saddle bronc riding Round 1 win with Lefty Holman.
Wright had an 86-point ride on Bailey Pro Rodeo's Rip Cord, while Holman equaled that score aboard Brookman Rodeo's Flirtacious.
"It's an indescribable feeling to be here let alone win the first go-round," said Wright, 25. "It's hard to put into words. We've been working for it all year. That horse was really strong, shooting away. I was lucky enough, I went with the right rein, so I was able to lift on it and keep my butt in the saddle. I didn't want to know what my draw was because I knew I wouldn't get any sleep. I was a nervous wreck. I'm glad this is behind us. The first-round jitters are out of the way, now I can just roll on."
Wright is making his fifth Wrangler NFR appearance, Holman is an NFR rookie.
"I'm speechless to be honest," Holman said. "I'm blessed to be here, and my family is all out here supporting me. It means the world to have so much support behind me. And, especially to get that first win with a guy I've looked up to my whole life, Rusty Wright. I've watched countless YouTube videos on that guy and now I'm getting a buckle with him. It's an unbelievable feeling."
Realizing his NFR dream is something Holman is still trying to digest.
"Honestly, it hasn't really hit me yet. This is all happening so quick. I feel so blessed to be here, be here with this group of guys, the most elite group of guys going down the road. It's an honor to be a part of them, let alone get the first-round win at my first NFR. It's the best moment of my life.
"I'm not going to lie. I was pretty nervous all day today. I knew that horse was going to be amazing and I knew if I did my job that horse would do his. It turned out for the best."
Wright was just focusing on the job at hand.
"Honestly, the yellow bucking chutes are all I pay attention to when I'm at the NFR," he said. "It felt just the same."
Bareback rider Champion wins Round 1 of Wrangler NFR for second year in a row
Bareback rider Richmond Champion repeated history, and that was a good thing.
For the second year in a row, Champion won Round 1 at the Wrangler NFR.
Champion delivered his latest victory with an 87.5-point ride on J Bar J's Blessed Assurances at Globe Life Field.
"Whenever you can win a round it is a great feeling. To know that you have nine more opportunities and you already have a buckle under your belt it's a great feeling. This rodeo is all about momentum, so if you get it don't let off the gas."
A year ago, Champion was victorious with a Round 1 record ride of 91.5 points on Pickett Pro Rodeo's Night Crawler at the Thomas & Mack Center in Las Vegas.
Champion knew he had a great opportunity with Blessed Assurance.
"She has been a great horse here for a long time and won multiple rounds here in the TV pens and I was really pumped to have her in Round 1," Champion said. "She was a little fractious in the bucking chute, but that's always her, and when she's outside she's awesome and it worked out really well."
Becoming the first cowboy to win an NFR round in Texas since 1961 was something that wasn't lost on Champion.
"I don't know that doing that sunk in," he said. "There are so many blessings just to come and have an NFR and to be able to ride for this kind of money in a rough year for everybody. Then, to start on top feels really good. This was exciting and the kind of stuff you dream about when you think about the NFR and here I am living it."
Champion entered the Wrangler NFR seventh in the PRCA | RAM World Standings and moved up third with his win.
Yates wins tie-down roping with 7.1-second run
Marty Yates, who was making his seventh consecutive trip to the Wrangler NFR, won Round 1 for the second time in his career.
The Stephenville, Texas, cowboy who won Round 1 as a rookie in 2014 with a 7.4-second run was even better Thursday night.
Yates stopped the clock in 7.1 seconds to capture the Round 1 crown.
"We started off with a bang," Yates said. "All of us didn't know what to expect coming here to a different setup. It's like 15 NFR rookies, but all of us loved it, we thought it was awesome, a new change and obviously it was great for me winning a round, and I get to be back here nine more nights."
Yates acknowledged Globe Life Field and the Thomas & Mack Center in Las Vegas – home to the NFR since 1985 before this year – was quite a change.
"It's definitely different than the Thomas & Mack where it's real short scores and you can almost fit three of those arenas in this one arena," Yates said. "It's obviously different, but roping calves is roping calves. You back in there, you let the calf out and then go tie him down so when you have a great pen of calves like we did tonight, and going to be throughout the whole week, it makes it easy for us to do our job and show up for these awesome fans."
Trio of steer wrestlers split Round 1 win
Steer wrestlers Dakota Eldridge, Blake Knowles and Jesse Brown all left Round 1 smiling.
The trio had identical 3.9-second runs to share the win at Globe Life Field.
"It felt good. The steer hung up just a kick," Eldridge said. "The horse felt great. I'm just glad to get on a roll like that and keep after them."
Getting a share of the win in Round 1 left Knowles pumped for the rest of the NFR.
"Rodeo is just like any other sport. Momentum is huge," Knowles said. "When you can get things rolling, it brings confidence and confidence elevates you to do your best every night. Seems like things get rolling if you can get to that point."
Competing at the plush Globe Life Field is something Knowles tried to block out.
"Honestly, at this point once a guy backs in the box, it's just an arena," he said. "This venue is amazing, but really, especially once you're on a horse, back in the box and looking down the barrel, it really is no different from being anywhere."
Brown, a former quarterback at Washington State University, also was thrilled to be atop the leaderboard after Round 1.
"I couldn't ask for anything more than that right there," Brown said.
Eldridge and Knowles are making their seventh and fifth appearances, respectively, at the NFR, while Brown is making his NFR debut.
"Start off with a bang, be aggressive and make the best run it could be … be fast," Brown said about his approach.
"I missed the barrier a little bit. So, luckily (the hazer) waited for me. Being first out, I don't know if I double clutched, something happened, I just missed it a little, but I got a good finish on the nose."
Team ropers Rogers, Bray win Round 1
Team ropers Erich Rogers and Payden Bray had no equal Thursday.
Rogers and Bray won Round 1 with a 4.8-second run.
"To draw blood here on the first night was awesome. The steers are a little stronger and the crowd is just awesome," Rogers said. "It's not near like Vegas but it's getting there. We set up our week."
Bray also was thrilled to get off to a quick start.
"It'll dang sure give us more confidence, but what I feel confident about is we just made our run we didn't do anything crazy," Bray said. "Erich did a great job at the barrier and stuck him, and it wasn't radical or out of control, and I feel like we can do that every time."
Rogers, who has qualified for the NFR 10 years in a row, won a 2017 world championship with Cory Petska.
"It's dang sure a different playing field but it's electrifying like always in a big stadium, it's awesome," Rogers said.
Bray, who is making his Wrangler NFR debut, shared the same sentiments.
"They (the steers) are definitely more out in the open and some guys had some tough luck," Bray said. "There's a lot of ground to go catch them in and that's good and bad so guys will dang sure have to cowboy up and ride their horses this week. It kind of feels like AT&T (Stadium) next door if you ask me."
Barrel racer Hailey Kinsel captures win
Hailey Kinsel set the pace in barrel racing in Round 1, snaring the win with a 17.18-second run.
"Yeah, it was a great run. Sis (Sister) was really awesome, just honest everywhere," Kinsel said. "She started her turns exactly where I asked her to, which, not knowing what the feel was going to be underneath us with the footing because it's new to everybody, I just wanted to set her up in a square spot where she had plenty of room to come around, and she listened to me and just took it really well and found the first barrel in the middle of nowhere just like we were back in Sidney, Iowa.
"It's a cool set up. It's just different though. There were a couple things that were different from when we first came to practice – the fans, the lights, the noise, even a couple of banners have changed and that can throw a lot of horses off, I know it did tonight. So, I'm looking forward to seeing a lot of them get to keying after a couple nights. I think my horse will get better, as well."
2020 Wrangler National Finals Rodeo Results
Round 1, Dec. 3
Globe Life Field, Arlington, Texas

Bareback Riding:
1. Richmond Champion, 87.5 points on J Bar J's Blessed Assurance, $26,231; 2. (tie) Mason Clements and Jess Pope, 87, $18,192 each; 4. (tie) Clayton Biglow and Cole Reiner, 85, $8,885 each; 6. Chad Rutherford, 84.5, $4,231; 7. (tie) Tanner Aus and Jake Brown, 83; 9. Tim O'Connell, 82.5; 10. Tilden Hooper, 82; 11. Kaycee Feild, 81.5; 12. Orin Larsen, 81; 13. Leighton Berry, 80.5; 14. Jamie Howlett, 80; 15. Winn Ratliff, 60.
World standings:
1. Tim O'Connell, $132,927; 2. Kaycee Feild, $104,892; 3. Richmond Champion, $100,380; 4. Orin Larsen, $91,391: 5. Clayton Biglow, $89,858; 6. Tilden Hooper, $87,549; 7. Mason Clements, $86,694; 8. Jess Pope, $77,804; 9. Jamie Howlett, $76,583; 10. Tanner Aus, $71,726; 11. Cole Reiner, $63,928; 12. Leighton Berry, $63,386; 13. Jake Brown, $52,778; 14. Chad Rutherford, $51,643; 15. Ty Breuer, $49,334; 16. Winn Ratliff, $45,512.
Steer Wrestling:
1. (tie) Dakota Eldridge, Blake Knowles and Jesse Brown, 3.9 seconds, $20,872 each; 4. (tie) Stetson Jorgensen, Jacob Edler, 4.0, $8,885 each; 6. Jace Melvin, 4.1, $4,231; 7. Tyler Waguespack, 4.3; 8. Jule Hazen, 4.4; 9. Tanner Brunner, 4.6; 10. Jacob Talley, 5.2; 11. Bridger Anderson, 5.7; 12. Matt Reeves, 6.3; 13. Will Lummus, 14.5; 14. (tie) Curtis Cassidy and Clayton Hass, NT.
World standings:
1. Matt Reeves, $96,944; 2. Dakota Eldridge, $80,957; 3. Blake Knowles, $73,355; 4. Jacob Talley, $71,623; 5. Jesse Brown, $70,366; 6. Stetson Jorgensen, $64,927; 7. Jacob Edler, $64,491; 8. Tyler Waguespack, $62,678; 9. Jace Melvin, $60,456; 10. Curtis Cassidy, $60,047; 11. Tanner Brunner, $56,885; 12. Bridger Anderson, $53,877; 13. Clayton Hass, $51,840; 14. Will Lummus, $50,279; 15. Jule Hazen, $49,730.
Team Roping:
1. Erich Rogers/Paden Bray, 4.8 seconds, $26,231 each; 2. (tie) Luke Brown/Joseph Harrison and Dustin Egusquiza/Travis Graves, 4.9, $18,192 each; 4. Clay Smith/Jade Corkill, 5.1, $11,000; 5. Brenten Hall/Chase Tryan, 5.2, $6,769; 6. Cody Snow/Junior Nogueira, 5.7, $4,231; 7. Levi Simpson/Shay Dixon Carroll, 6.1; 8. Jeff Flenniken/Tyler Worley, 6.7; 9. Nelson Wyatt/Levi Lord. 6.8; 10. (tie) Colby Lovell/Paul Eaves, Andrew Ward/Buddy Hawkins II, Clay Tryan/Jake Long, Charly Crawford/Logan Medlin, Chad Masters/Wesley Thorp and Kolton Schmidt/Hunter Koch, NT.
World standings (headers):
1. Luke Brown, $117,857; 2. Dustin Egusquiza, $92,368; 3. Clay Smith, $90,704; 4. Erich Rogers, $88,772; 5. Cody Snow, $83,459; 6. Colby Lovell, $75,509; 7. Andrew Ward, $73,872; 8. Clay Tryan, $67,629; 9. Charly Crawford, $65,229; 10. Brenten Hall, $63,914; 11. Chad Masters, $62,682; 12. Kolton Schmidt, $61,022; 13. Nelson Wyatt, $60,692; 14. Levi Simpson, $60,398; 15. Jeff Flenniken, $59,391.
World standings (heelers):
1. Joseph Harrison, $98,491; 2. Jade Corkill, $90,704; 3. Paden Bray, $88,772; 4. Travis Graves, $84,706; 5. Buddy Hawkins II, $73,872; 6. Jake Long, $73,227; 7. Junior Nogueira, $72,315; 8. Shay Dixon Carroll, $66,267; 9. Paul Eaves, $66,159; 10. Logan Medlin, $64,621; 11. Chase Tryan, $63,914; 12. Wesley Thorp, $62,682; 13. Levi Lord, $61,890; 14. Tyler Worley, $61,138; 15. Hunter Koch, $61,022.
Saddle Bronc Riding:
1.(tie) Rusty Wright, on Bailey Pro Rodeo's Rip Cord and Lefty Holman, on Brookman Rodeo's Flirtacious, 86 points, $23,481 each; 3. Ryder Wright, 85.5, $15,654; 4. Wyatt Casper, 85.0, $11,000; 5. (tie) Brody Cress and Chase Brooks, 84.5, $5,500 each; 7. Stetson Dell Wright, 84; 8. Sterling Crawley, 83.5; 9. (tie) Shorty Garrett and Jacobs Crawley, 82; 11. Zeke Thurston, 81.5; 12. Isaac Diaz, 81; 13. Taos Muncy, 80.5; 14. (tie) Allen Boore and Cole Elshere, NS.
World standings:
1. Wyatt Casper, $166,138; 2. Ryder Wright, $136,990; 3. Brody Cress, $115,039; 4. Shorty Garrett, $100,005; 5. Rusty Wright, $83,426; 6. Allen Boore, $83,269; 7. Lefty Holman, $83,151; 8. Chase Brooks, $66,900; 9. Cole Elshere, $64,351; 10. Sterling Crawley, $61,608; 11. Jacobs Crawley, $60,930; 12. Zeke Thurston, $60,523; 13. Stetson Dell Wright, $57,498; 14. Isaac Diaz, $54,832; 15. Taos Muncy, $52,303.
Tie-down Roping:
1. Marty Yates, 7.1 seconds, $26,231; 2. Shad Mayfield, 7.5, $20,731; 3. Ty Harris, 7.8, $15,654; 4. Caddo Lewallen, 8.1, $11,000; 5. (tie) Westyn Hughes and Cory Solomon, 8.3, $5,500 each; 7. Shane Hanchey, 8.9; 8. Timber Moore, 9.8; 9. (tie) Tuf Cooper and Adam Gray, 10.4 each; 11. Haven Meged, 10.9; 12. Hunter Herrin, 14.8; 13. Ryan Jarrett, 19.3; 14. Tyler Milligan, 20.6; 15. Tyson Durfey, NT.
World standings:
1. Shad Mayfield, $187,399; 2. Marty Yates, $92,399; 3. Ty Harris, $84,068; 4. Tuf Cooper, $77,189; 5. Haven Meged, $76,748; 6. Westyn Hughes, $75,891: 7. Tyler Milligan, $70,919; 8. Caddo Lewallen, $68,141; 9. Caleb Smidt, $64,595; 10. Timber Moore, $63,168; 11. Shane Hanchey, $62,299; 12. Ryan Jarrett, $62,080; 13. Cory Solomon, $61,374; 14. Tyson Durfey, $57,293; 15. Adam Gray, $56,851; 16. Hunter Herrin, $56,049.
Barrel Racing:
1. Hailey Kinsel, 17.18 seconds, $26,231; 2. Tiany Schuster, 17.25, $20,731; 3. Brittany Pozzi Tonozzi, 17.32, $15,654; 4. Cheyenne Wimberley, 17.37, $11,000; 5. Stevi Hillman, 17.50, $6,769; 6. Shelley Morgan, 17.56, $4,231; 7. Jessica Telford, 17.59; 8. Brittney Barnett, 17.65; 9. Jessica Routier, 17.74; 10. Jill Wilson, 17.81; 11. Wenda Johnson, 17.96; 12. Emily Miller, 18.06; 13. Ryann Pedone, 18.32; 14. Jimmie Smith, 18.81; 15. Lisa Lockhart, 22.11.
World standings:
1. Hailey Kinsel, $114,692; 2. Brittany Pozzi Tonozzi, $112,379; 3. Tiany Schuster, $85,791; 4. Dona Kay Rule, $77,454; 5. Jimmie Smith, $75,022; 6. Stevi Hillman, $69,158: 7. Cheyenne Wimberley, $68,039; 8. Shelley Morgan, $67,306: 9. Jill Wilson, $63,371; 10. Jessica Routier, $61,371; 11. Ryann Pedone, $52,581: 12. Emily Miller, $52,388; 13. Lisa Lockhart, $50,904; 14. Wenda Johnson, $49,953; 15. Brittney Barnett, $49,565; 16. Jessica Telford, $48,477.
Bull Riding:
1. Stetson Dell Wright, 90.5 points on Stockyards ProRodeo's Silver Lining, $26,231; 2. Ky Hamilton, 90, $20,731; 3. Trevor Kastner, 87, $15,654; 4. Colten Fritzlan, 86.5, $11,000; 5. Clayton Sellars, 86, $6,769; 6. Sage Kimzey, 80.5, $4,231; 7. Tyler Bingham, 79; 8. Brady Portenier, 78; 9. (tie) Dustin Boquet, Roscoe Jarboe, Denton Fugate, Jeff Askey, Boudreaux Campbell, Ty Wallace and Parker McCown, NS.
World standings:
1. Ky Hamilton, $120,177; 2. Sage Kimzey, $106,565; 3. Stetson Dell Wright, $96,876; 4. Boudreaux Campbell, $95,746; 5. Dustin Boquet, $91,566; 6. Brady Portenier, $83,105; 7. Trevor Kastner, $80,935; 8. Colten Fritzlan, $79,408; 9. Jeff Askey, $76,227; 10. Roscoe Jarboe, $71,417; 11. Ty Wallace, $70,234; 12. Clayton Sellars, $70,164; 13. Parker McCown, $65,561; 14. Tyler Bingham, $65,558; 15. Denton Fugate, $62,236.