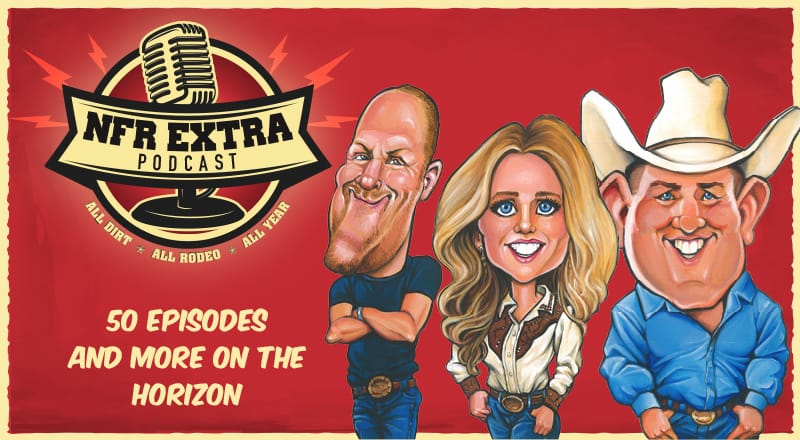 NFR Extra Podcast Releases 50th Episode
LAS VEGAS
The NFR Extra podcast released its 50th episode on Sunday, June 14. Produced by Las Vegas Events, the podcast explores the personalities and stories in and behind the Wrangler National Finals Rodeo, the annual rodeo championship showcase held in Las Vegas since 1985.
Launched in March 2019 under the theme of "All Dirt, All Rodeo, All Year," NFR Extra follows current and former rodeo contestants, country music performers, stock contractors, rodeo industry insiders and more. New episodes are released weekly with the plan to broadcast daily from Cowboy Christmas during the ten days of the Wrangler NFR, scheduled for Dec. 3-12.
NFR Extra is hosted by Nevada Colwell and ProRodeo announcer Steve Goedert, along with former collegiate rodeo athlete Brilynn Bentley.
Some of the guests appearing on previous episodes of NFR Extra have included Wrangler NFR champions Trevor Brazile, Tuf Hedeman, Kaycee Feild, Tim O'Connell, Fallon Taylor, Caleb Smidt, Clay Smith, Haven Meged and Sage Kimzey. Additional guests have included Jack Roddy, Bill Neff, Kirsten Vold, Randy Bracher, Dale Brisby, Cody Webster and Steve Stallworth.
"The NFR Extra podcast continues LVE's commitment to promoting the Wrangler NFR and the sport of rodeo year-round," said Pat Christenson, president of Las Vegas Events. "Our goal is to provide a forum for a wide variety of guests to share their experiences and build on a platform that promotes the unique aspects of the Western lifestyle. The talented hosts are committed to bringing unique content and stories, some that have never been previously shared, to rodeo fans each week."
NFR Extra is also starting to gain momentum throughout the rodeo industry.
"I've been a podcast guy for years now," said Shane Hanchey, ten-time NFR qualifier and 2013 Tie-Down Roping World Champion. "I enjoy listening but most importantly being a part of the NFR Extra podcast is something I won't ever forget."
"I listen to Western lifestyle podcasts on a regular basis," added Randy Bracher, president of the Pendleton Round-Up Association. "NFR Extra is at the top because it discusses relevant issues from all different perspectives, whether it be rodeo committees, contractors, contestants, sponsors and communities and how each are intertwined to ensure the success of the sport and lifestyle."
NFR Extra can be accessed at
NFRexperience.com
or on
Spotify
,
Apple Podcast
,
iHeart
or anywhere fans like to listen.
Known as the richest and most prestigious rodeo in the world, the Wrangler NFR attracts the top 15 contestants in bareback riding, steer wrestling, team roping, saddle bronc riding, tie-down roping, barrel racing, and bull riding to compete for a share of the $10 million purse and the coveted PRCA Gold Buckle. In 2019, the event had a total attendance of 168,289 over the 10 days of competition and has sold out more than 330 consecutive performances.
For more information on the Wrangler NFR, please visit
NFRexperience.com
or through social media at /LasVegasNFR and use #WranglerNFR.