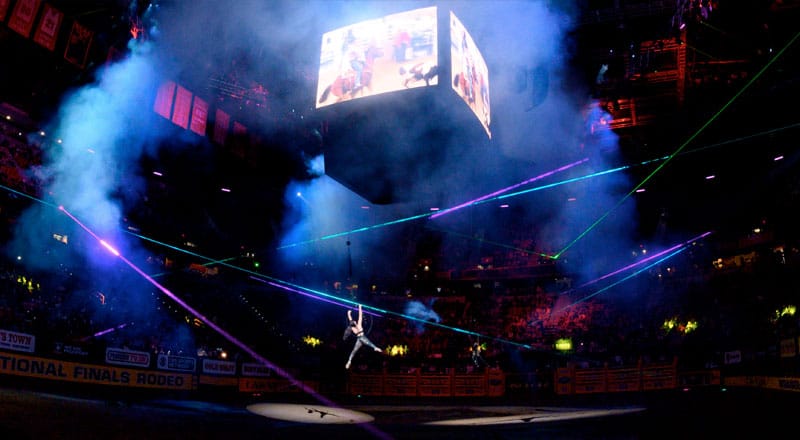 Champion wins Round 1 of Wrangler NFR with record ride
LAS VEGAS


Courtesy of the PRCA; Image provided by Tom Donoghue

Check out the video highlights
here
.
This was a bareback riding round for the ages at the Wrangler National Finals Rodeo, Thursday night.
Three riders all broke the previous round record, as Richmond Champion became the king of Round 1 with his 91.5-point ride on Pickett Pro Rodeo's Night Crawler before 16,792 spectators at the Thomas & Mack Center.
"It's pretty fun," Champion said. "I've never gone out in the NFR and gotten a round win this early. That's always the goal when you come here, you want to come out hot. Hopefully it will stay that way. The guys are riding great and the horses are great. I expect these records to keep getting broken all week long."
Earlier in the round, Caleb Bennett set the Round 1 record with his 90-point ride on Pickett Pro Rodeo's Top Egyptian. The previous Round 1 record was 89 points, shared by Kaycee Feild (2011) and Wes Stevenson (2006).
Bennett held the record for less than five minutes as Clayton Biglow made a 90.5-point trip on Cervi Champion Rodeo's RodeoHouston's Ain't No Angel.
But Champion claimed the record on Night Crawler. Wyatt Denny won Round 1 of the 2018 Wrangler NFR with an 87.5-point ride on Night Crawler.
"I had never been on that horse before," Champion said. "I saw him on video a couple of times, and Caleb and I were talking and saying how (Night Crawler and Pickett Pro Rodeo's Nightlivin) are about the same horse. Nightlivin had an off day and Night Crawler saved the day. The nerves for the first one are always the hardest here. That (first ride) brought me back to level ground, and I was feeling excited to get on that re-ride."
Champion entered the Wrangler NFR fifth in the PRCA | RAM World Standings and was thrilled with his start at the Thomas & Mack. Champion earned $26,231 for his ride, moving him to fourth in the world standings – $45,623 behind leader Biglow.
"That (re-ride) was awesome," Champion said. "It was one of those where you black out for a few seconds off the start, and the next thing you know you're in the middle of him with your feet over your head. It was a lot of fun. It's the kind you dream about getting on. This is a great confidence boost, and I want to keep the momentum rolling."
Wade/Davison tie team roping Round 1 record
Team ropers Tyler Wade and Cole Davison equaled NFR history Thursday.
The partners registered a 4.0-second time to tie the NFR Round 1 record set by Turtle Powell and Dakota Kirchenschlager in 2014.
"Oh, man, that's pretty cool, and the steers are better this year and that makes for faster rounds and faster roping," Wade said.
The round win moved Wade to eighth in the header world standings and Davison to 10th.
"Last year I roped terribly for the first three rounds and didn't catch one," Davison said. "I don't get worked up either way, but this is an easier start than last year. I'm humbled to even be here, and every win is a big win to me."
Rookie Stetson Wright wins round in first Wrangler NFR trip
It didn't take bull rider Stetson Wright long to win a round at the Wrangler NFR.
The rookie won Round 1 with an electric 92.5-point ride on 4L & Diamond S Rodeo's Monte Walsh.
"It was amazing, I have envisioned it since I was a little kid here watching my dad (Cody Wright)," Wright said about his memorable eight-second performance. "I wanted to win a round in saddle bronc riding too, but I'm not complaining one bit."
Wright, who also entered the NFR leading the all-around standings over team roping header Clay Smith, was excited to get aboard Monte Walsh – a bull he had done his homework on.
"I have watched him a bunch of times, and I wanted him before when we were out rodeoing and was so glad, I got him here instead," Wright said. "He did exactly what I thought he would do, and he looked a little juicier."
With one round victory under his belt, Wright felt a sense of relief.
"It means everything, it's a great way to start the week, and my nerves have left the room because of that ride," he said. "The main thing was proving I should be here, and now I know I belong here."
Hanchey notches tie-down roping win
Shane Hanchey was in top form in Round 1.
Hanchey, the 2013 PRCA Tie-down Roping World Champion, stopped the clock in 7.6 seconds to capture the victory.
"It feels good. It's important to get off on the right foot," Hanchey said. "It's such a long rodeo. Going for 10 days, it seems like if it doesn't go perfect the first couple rounds you get to panicking. I've been fortunate to have good luck in the past in the first round. This builds a lot of confidence and momentum for me, and I'm looking forward to it the next nine nights."
Hanchey, who is competing in his 10th NFR, was staying focused on his job at hand.
"I didn't watch many other runs," Hanchey said. "When (Taylor Santos) recorded a time of 8.1 (seconds), I thought if I went a little faster than him, I'd win some good money. I bought my horse from Mike Johnson in 2016, his name is Bam Bam. He fits my style. This is my fourth NFR with him."
Steer wrestler Eldridge gets off to fast start
Dakota Eldridge seems to perform his best in Las Vegas' bright lights.
In his first five appearances at the Wrangler NFR, he's won the average twice – 2015 and 2017.
The Elko, Nev., cowboy had his talent on full display during his sixth trip, winning Round 1 in 3.6 seconds. The victory helped him rocket up from 11th to second in the world standings – $38,747 behind leader Ty Erickson.
"That was really one of my goals, to put the pedal down at the beginning," Eldridge said. "This year, I just told myself I'm going to give it 100 percent and go for every round (win). I'm coming in at the best place you could ever come in, down toward the bottom, and nobody knows you're in contention for a world title. So, my plan is to just keep slipping up there and go for every one and just have fun.
"It's just a blessing to be down here after last year when I tore up my knee. You never take it for granted down here."
In 2018, Eldridge suffered a season-ending left knee injury July 17 at Cheyenne (Wyo.) Frontier Days. Eldridge finished second in the world standings in 2015 and third in the world in 2017. He was quick to credit his horsepower and his hazer for his most-recent success.
"I'm riding Rusty, my good horse, that I've ridden every year here," Eldridge said. "He's actually been here more than I have, and he knows the start here better than I do. Clayton Hass is hazing for me, and he's worth his weight in gold. He just brings them where I need him to bring them. We're a good team together."
Thurston tops saddle bronc riding Round 1 leaderboard
Zeke Thurston entered the 2019 Wrangler NFR in second place in the world standings – $47,497 behind Ryder Wright.
Thurston, of Big Valley, Alberta, edged closer to Wright by winning Round 1 with an 88-point ride on Mo Betta Rodeo's Sue City Sue.
The $26,231 victory by Thurston got him within $21,266 of Wright.
"I'd never had it (Mo Betta Rodeo's Sue City Sue) before, but I'd seen it lots," Thurston said. "Cort Scheer and I split the sixth round here last year, and he was on that horse. They've won lots of rounds on it, and it's a great horse. Everywhere they get on that horse, they're going to win. I was very happy with the draw.
"She tries hard every time. She jumps out there and has a right-hand move, goes down the front of the chutes, gets up under herself and kicks really good. Just a bronc rider's dream, I guess. She's got lots of timing, has lots of snap and is kind of an electric little thing. She's awesome."
Thurston said the early win was just what he wanted.
"Oh, it's great," Thurston said. "It gives you a confidence boost. You've got the hardest one out of the way, and you just try to keep the ball rolling and just have fun."
Barrel racer Emily Miller snares win
Rookie Emily Miller was nearly overcome with emotion when she claimed a Round 1 victory with a 13.63-second run.
"I'm about to cry, I'm so excited, honestly," Miller said. "It's a dream come true. Any time you get to run with this caliber of women and this much horsepower, it's surreal. To get the win tonight is pretty neat. You know it's going to be amazing (to be here), but to actually experience it is unbelievable."
Miller also praised her 9-year-old horse Chongo.
"Chongo, he's spectacular," she said. "That horse is such an athlete. Honestly, I struggled with him for a long time, because he was so athletic. I was over-riding him and not giving him the space. He needed to do his job, so it took us a little while.
"I took him back to Kylie Weast, who trained him, and she helped a lot. It kind of took just dumbing it down and letting him do his job. He knows what to do, and I'm so proud of him. It's so neat to get to bring him here, because he deserves it."
First Performance Results, Thursday, Dec. 5, 2019
Thomas & Mack Center, Las Vegas
Bareback riding:
1. Richmond Champion, 91.5 points on Pickett Pro Rodeo's Night Crawler, $26,231; 2. Clayton Biglow, 90.5, $20,731; 3. Caleb Bennett, 90, $15,654; 4. Tilden Hooper, 88.5, $11,000; 5. Tim O'Connell, 88, $6,769; 6. (tie) Orin Larsen and Clint Laye, 87.5, $2,115 each; 8. Kaycee Feild, 87; 9. Steven Dent and Austin Foss, 86; 11. Trenten Montero, 84; 12. Ty Breuer and Taylor Broussard, 83.5; 14. Jake Brown and Tanner Aus, NS.
World Standings:
1. Clayton Biglow, $212,683; 2. Kaycee Feild, $186,205; 3. Orin Larsen, $185,558; 4. Richmond Champion, $167,060; 5. Tilden Hooper, $158,559; 6. Caleb Bennett, $136,627; 7. Tim O'Connell, $129,938; 8. Clint Laye, $120,069; 9. Jake Brown, $105,068; 10. Steven Dent, $103,799; 11. Austin Foss, $102,895; 12. Ty Breuer, $98,699; 13. Tanner Aus, $91,595; 14. Trenten Montero, $90,757; 15. Taylor Broussard, $89,271.
Steer wrestling:
1. Dakota Eldridge, 3.6 seconds, $26,231; 2. (tie) J.D. Struxness and Bridger Chambers, 3.8, $18,192 each; 4. Stetson Jorgensen, 4.0, $11,000; 5. Tyler Waguespack, 4.1, $6,769; 6. (tie) Cameron Morman, Tyler Pearson and Will Lummus, 4.3, $1,410 each; 9. Matt Reeves, 4.5; 10. Riley Duvall, 4.6; 11. Hunter Cure, 4.7; 12. Ty Erickson, 13.4; 13. Kyle Irwin, 14.0; 14. Scott Guenthner, 18.2; 15. Tanner Brunner, NT.
World Standings:
1. Ty Erickson, $156,081; 2. Dakota Eldridge, $117,334; 3. Hunter Cure, $114,568; 4. Tyler Waguespack, $113,900; 5. Scott Guenthner, $112,750; 6. Stetson Jorgensen, $111,220; 7. J.D. Struxness, $111,022; 8. Bridger Chambers, $107,221; 9. Will Lummus, $97,805; 10. Riley Duvall, $95,963; 11. Tyler Pearson, $94,520; 12. Kyle Irwin, $93,472; 13. Matt Reeves, $89,490; 14. Cameron Morman, $88,114; 15. Tanner Brunner, $84,950.
Team roping:
1. Tyler Wade/Cole Davison, 4.0 seconds, $26,231; 2. Matt Sherwood/Hunter Koch, 4.1, $20,731; 3. Erich Rogers/Kyle Lockett, 4.3, $15,654; 4. Brenten Hall/Chase Tryan, 4.5, $11,000; 5. Kaleb Driggers/Junior Nogueira, 4.6, $6,769; 6. (tie) Riley Minor/Brady Minor and Luke Brown/Paul Eaves, 4.7, $2,115 each; 8. Cody Snow/Wesley Thorp, 4.9; 9. Ty Blasingame/Travis Graves, 5.5; 10. Chad Masters/Joseph Harrison, 6.0; 11. Clay Smith/Jade Corkill, 9.4; 12. Tate Kirchenschlager/Tyler Worley, 9.8; 13. Jake Cooper/Caleb Anderson, 14.6; 14. Coleman Proctor/Ryan Motes, 19.0; 15. Clay Tryan/Jake Long, NT.
World Standings (headers):
1. Clay Smith, $160,512; 2. Kaleb Driggers, $135,225; 3. Coleman Proctor, $114,318; 4. Clay Tryan, $113,165; 5. Ty Blasingame, $111,490; 6. Brenten Hall, $109,927; 7. Riley Minor, $109,764; 8. Tyler Wade, $109,625; 9. Matt Sherwood, $106,935; 10. Chad Masters, $105,529; 11. Cody Snow, $105,054; 12. Erich Rogers, $99,653. 13. Luke Brown, $97,055; 14. Tate Kirchenschlager, $85,738; 15. Jake Cooper, $83,191.
World Standings (heelers)
: 1. Junior Nogueira, $132,544; 2. Kyle Lockett, $124,384; 3. Ryan Motes, $119,166; 4. Jade Corkill, $118,638; 5. Jake Long, $116,896; 6. Hunter Koch, $115,038; 7. Travis Graves, $113,165; 8. Brady Minor, $109,764; 9. Joseph Harrison, $108,278; 10. Cole Davison, $108,140; 11. Chase Tryan, $107,345; 12. Paul Eaves, $101,562; 13. Wesley Thorp, $97,296; 14. Caleb Anderson, $82,390; 15. Tyler Worley, $81,190.
Saddle bronc riding:
1. Zeke Thurston, 88 points on Mo Betta Rodeo's Sue City Sue, $26,231; 2. (tie) Bradley Harter and J.J. Elshere, 86.5, $18,192 each; 4. (tie) Chase Brooks, Brody Cress and Spencer Wright, 86, $7,333 each; 7. Dawson Hay, 83; 8. Rusty Wright, 81.5; 9. Colt Gordon, 79.5; 10. (tie) Ryder Wright, Jacobs Crawley, Sterling Crawley, Jesse Wright, Mitch Pollock and Jake Watson, NS.
World Standings:
1. Ryder Wright, $234,488; 2. Zeke Thurston, $213,222; 3. Spencer Wright, $137,438; 4. Chase Brooks, $133,617; 5. Jacobs Crawley, $131,012; 6. Rusty Wright, $128,192; 7. Bradley Harter, $127,543; 8. Sterling Crawley, $124,427; 9. Brody Cress, $123,205; 10. J.J. Elshere, $119,004; 11. Jake Watson, $118,791; 12. Dawson Hay, $110,311; 13. Mitch Pollock, $109,542; 14. Jesse Wright, $106,505; 15. Colt Gordon, $101,071.
Tie-down roping:
1. Shane Hanchey, 7.6 seconds, $26,231; 2. Taylor Santos, 8.1, $20,731; 3. Haven Meged, 8.3, $15,654; 4. (tie) Tyson Durfey and Marty Yates, 8.4, $8,885 each; 6. Michael Otero, 8.6, $4,231; 7. Tuf Cooper, 8.7; 8. Rhen Richard, 9.3; 9. Caleb Smidt and Shad Mayfield, 9.7; 11. Riley Pruitt, 10.3; 12. Cooper Martin, 13.9; 13. Tyler Milligan, 17.8; 14. Adam Gray, 18.9; 15. Ty Harris, NT.
World Standings:
1. Haven Meged, $145,533; 2. Caleb Smidt, $141,900; 3. Shane Hanchey, $138,428; 4. Taylor Santos, $132,138; 5. Tyson Durfey, $131,763; 6. Marty Yates, $120,200; 7. Tuf Cooper, $115,592; 8. Michael Otero, $111,924; 9. Riley Pruitt, $109,535; 10. Ty Harris, $107,649; 11. Tyler Milligan, $107,474; 12. Adam Gray, $102,173; 13. Shad Mayfield, $100,421; 14. Rhen Richard, $98,661; 15. Cooper Martin, $96,260.
Barrel racing:
1. Emily Miller, 13.63 seconds, $26,231; 2. Lisa Lockhart, 13.70, $20,731; 3. Stevi Hillman, 13.75, $15,654; 4. Nellie Miller, 13.90, $11,000; 5. (tie) Jessica Routier and Jennifer Sharp, 13.97, $5,500 each; 7. Shali Lord, 14.01; 8. Brittany Pozzi Tonozzi, 14.02; 9. Ericka Nelson, 14.05; 10. Ivy Conrado-Saebens, 14.07; 11. Dona Kay Rule, 14.08; 12. Lacinda Rose, 14.46; 13. Hailey Kinsel, 18.66; 14. Cheyenne Wimberley, 19.09; 15. Amberleigh Moore, 23.81.
World Standings:
1. Lisa Lockhart, $177,082; 2. Nellie Miller, $175,611; 3. Hailey Kinsel, $158,867; 4. Emily Miller, $134,376; 5. Stevi Hillman, $130,989; 6. Shali Lord, $121,776; 7. Brittany Pozzi Tonozzi, $115,503; 8. Jessica Routier, $112,082; 9. Jennifer Sharp, $107,254; 10. Dona Kay Rule, $106,507; 11. Ericka Nelson, $103,433; 12. Ivy Conrado-Saebens, $103,269; 13. Amberleigh Moore, $103,059; 14. Cheyenne Wimberley, $100,361; 15. Lacinda Rose, $98,936.
Bull riding:
1. Stetson Wright, 92.5 points on 4L & Diamond S Rodeo's Monte Walsh, $26,231; 2. Boudreaux Campbell, 92, $20,731; 3. Tyler Bingham, 90, $15,654; 4. Jordan Hansen, 89.5, $11,000; 5. Sage Kimzey, 87.5, $6,769; 6. Garrett Smith, 87, $4,231; 7. Koby Radley, 86.5; 8. Clayton Sellars, 84.5; 9. Jordan Spears, 82.5; 10. Trevor Kastner, Josh Frost, Jeff Askey, Daylon Swearingen, Trey Kimzey and Trey Benton III, NS.
World Standings
: 1. Sage Kimzey, $262,207; 2. Stetson Wright, $188,652; 3. Trevor Kastner, $159,100; 4. Boudreaux Campbell, $157,502; 5. Tyler Bingham, $153,181; 6. Clayton Sellars, $139,191; 7. Garrett Smith, $138,205; 8. Jordan Hansen, $135,747; 9. Trey Benton III, $132,277; 10. Jordan Spears, $131,548; 11. Josh Frost, $129,561; 12. Koby Radley, $124,554; 13. Jeff Askey, $123,694; 14. Daylon Swearingen, $121,837; 15. Trey Kimzey, $118,160.