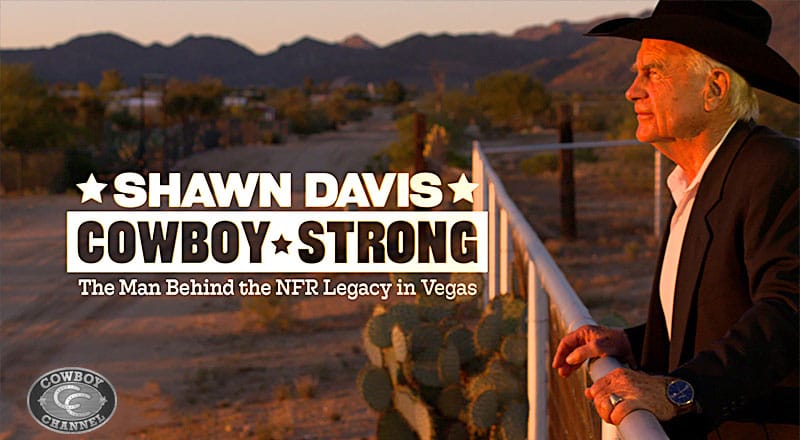 Cowboy Strong – The Man Behind the NFR Legacy in Vegas Documentary Chronicling the Life and Career of Shawn Davis To Air Multiple Times on Cowboy Channel
LAS VEGAS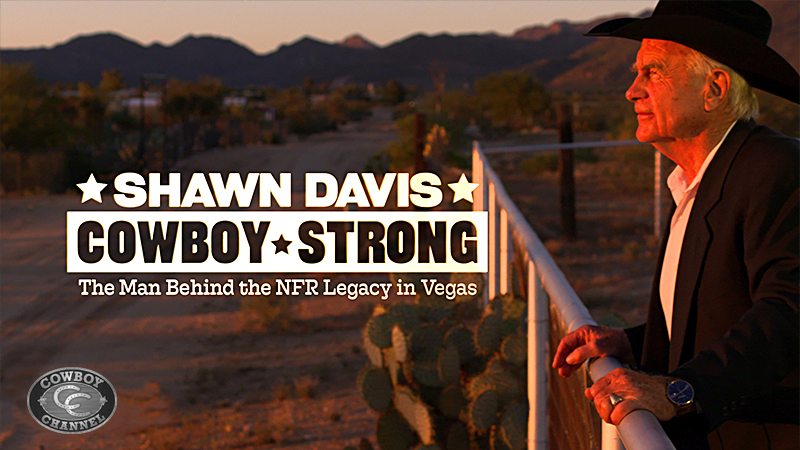 Cowboy Strong – The Man Behind the NFR Legacy in Vegas
, a special one-hour documentary produced to chronicle the incredible career of Shawn Davis, will air multiple times on Cowboy Channel over a period of two consecutive weeks.
The program can be viewed at the following times:
Saturday, May 18 at 5 p.m. and 8 p.m.
Sunday, May 19 at 3:30 p.m. and 9:30 p.m.
Tuesday, May 21 at 6 p.m.
Sunday, May 26 at 3:30 p.m.
All times PT
A division of Rural Media Group, Cowboy Channel is designed to bring the spirit of the American Cowboy to viewers through multiple platforms and is anchored by Western sports and everything that encompasses the popular Western lifestyle. Cowboy Channel can be viewed on DirecTV (Channel 603), DISH Network (Channel 232), AT&T U-Verse (Channel 566), Charter Spectrum (Channel 468), and select Cox, Comcast, Mediacom and many rural cable systems.
Davis was a three-time PRCA World Champion saddle bronc rider prior to turning his attention to the business of rodeo. That decision changed the fortunes for the sport and Las Vegas. Davis cast the deciding vote to move the National Finals Rodeo from Oklahoma City to Las Vegas. Since 1986, he has served as the general manager of the richest and most prestigious rodeo in the world.
Cowboy Strong
will further chronicle Davis' youth, rodeo career and cutting-edge approach to producing the Wrangler NFR. It will also cover his second passion – horse racing and his rodeo family.
Interviewees include Zane Davis, Carl Nafzger, Larry Mahan, Lew Cryer, Scott Stevens, Cody Wright, Cody DeMers, Bennie Beutler, Boyd Polhamus and Karl Stressman. Las Vegas principals providing insight include Michael Gaughan, owner of the South Point Hotel, Casino & Spa, Bill McBeath, president and CEO of The Cosmopolitan of Las Vegas, Scott Sibella, president and COO of MGM Grand and Las Vegas Events President Pat Christenson.
The program is co-written and produced by Executive Producer Jeff Medders of Geronimo Productions. Mark Milosevich will serve as the show's producer and director, in association with Las Vegas Events.
The Wrangler NFR attracts the top 15 contestants in bareback riding, steer wrestling, team roping, saddle bronc riding, tie-down roping, barrel racing, and bull riding to compete for a share of the $10 million purse and the coveted Gold Buckle. In 2018, the event had a total attendance of 169,171 over the 10 days of competition and has sold out more than 300 consecutive performances.
This year, the Wrangler NFR will kick off Thursday, Dec. 5 and run through Saturday, Dec. 14 at the Thomas & Mack Center in Las Vegas. All performances begin at 6:45 p.m.
For more information on the Wrangler NFR, please visit
NFRexperience.com
or through social media at /LasVegasNFR and use #WranglerNFR.
# # #
About Las Vegas Events
Founded in 1983, Las Vegas Events is a private, not-for-profit organization funded by hotel room tax. Through its Signature Event initiative, LVE has created a model to integrate all elements of special events and formally improve communication between event producers and Las Vegas' hotel properties and sponsors. Since 1991, Las Vegas Events has produced, presented or supported more than 750 events.
www.lasvegasevents.com
About the Wrangler NFR
The Wrangler National Finals Rodeo (NFR), considered the world's premier rodeo, features 10 straight days of the best in PRCA PRORODEO competition, with a total of 120 contestants competing every night in seven events. Each December, the top 15 contestants, based on the PRCA | RAM World Standings, in bareback riding, steer wrestling, team roping, saddle bronc riding, tie-down roping, barrel racing, and bull riding qualify to compete at the Wrangler NFR.
www.prorodeo.com
About Rural Media Group
Rural Media Group, Inc. is the world's leading provider of multimedia content dedicated to the rural and Western lifestyle. With a mission of reconnecting "city with country," RMG is the parent company of RFD-TV, RURAL RADIO, FamilyNet and RFD-TV The Magazine. RMG networks are distributed to more than 100 million homes worldwide by DBS, telco and cable systems including DISH Network, DIRECTV®, Comcast, AT&T U-Verse, Mediacom, Charter Spectrum, Suddenlink, Cox, and more than 600 independent rural cable systems. Corporate headquarters and broadcast operations are in Nashville, Tennessee.