07.19.2017
Salt Lake City, UTAH
Days of '47 Cowboy Games and Rodeo off to a fast start
by Ann Bleiker
The Days of '47 Cowboy Games and Rodeo kicked off with a bang in the brand new arena at Utah State Fairpark on July 19, 2017.

Current PRCA World Champion Tim O'Connell rode Flying U Rodeo's Misplaced Insanity for an 87.5 point ride to move to the top of the leaderboard on the first night and more importantly move on to Monday nights Gold Medal Round and a shot at $50,000.

O'Connell of Zwingle, Iowa, will be joined by Tanner Phipps also advancing from the first night with an 87.5 point ride on Diamond G Rodeo's 03, which happened to be on reride horse. The duo each pocketed $4,400 but hoping for a much bigger payday on Monday and a chance to compete for a Gold Medal.

2017 Ram National Circuit Finals Rodeo Champion Steer Wrestler Justin Shaffter from Hallsville, Texas, made good use of his time on Wednesday night with a time of 4.4 seconds to easily advance to Monday's finals. Nick Guy of Sparta, Wis., was second with a 4.8.

The team ropers ran into a bit of trouble as only three teams finished with a time. Nelson Wyatt of Clanton, Ala., and Matt Kasner of Cody, Neb., led the way with a 4.4 second run followed by Jr. Dees of Aurora, S.D. and Tyler McNight of Wells, Texas.

The last two PRCA world champions in the saddle bronc riding punched their ticket for a chance at a $50,000 payday. Jacobs Crawley of Boerne, Texas rodeo Flying Five Rodeo's Front Page for 85.5 points, while Zeke Thurston of Big Valley, Alberta, rode Komatsu's King Mountain for 84 points.

A couple of Texans finished atop the leaderboard in the tie-down roping with Marty Yates leading the way. Yates of Stephenville, stopped the clock in 7.6 seconds while Tuf Cooper of Weatherford finished in 8.5.

The WPRA barrel racers turned up the heat on Wednesday night with Kassie Mowry of Dublin, Texas, and Stevi Hillman, of Weatherford, Texas, finished 1-2 in time of 17.04 and 17.07, respectively. Both are hoping to get a share of the $50,000 to close the gap on No. 1 Tiany Schuster, who just won the Calgary Stampede and set a new WPRA regular season earnings record. Schuster will be in the spotlight on Thursday night, July 20, at 7 p.m.

Shane Proctor of Grand Coulee, Wash., brought the first night to a close atop the leaderboard in the bull riding with a 89.5 points on Diamond G Rodeo's Tawa II. Proctor, who won the PRCA World title in 2011, outdistanced three-time and current world champion Sage Kimzey. Kimzey, of Strong City, Okla., rode Diamond G Rodeo's Zion's Lil'America for 85 points to punch his ticket to the Gold Medal Round on July 24.

KSL.com will be live streaming from the event every night and the Gold Medal Round will be televised on CBS Sports Network on July 30 at 8 p.m. ET.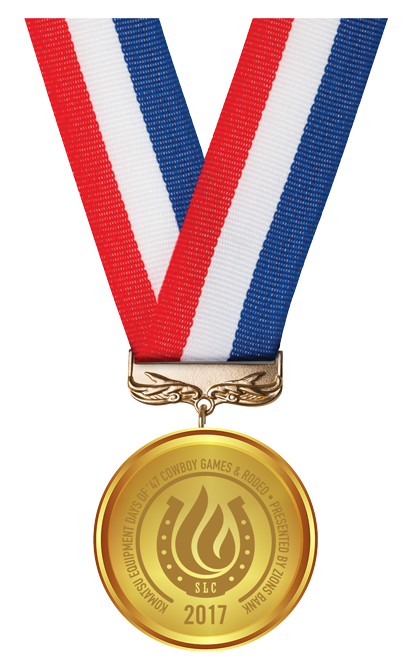 Results -
*Top two in each event advance to July 24 Gold Medal Round

Bareback riding: 1(tie). Tim O'Connell, Zwingle, Iowa, on Flying U Rodeo's Misplaced Insanity, and Tanner Phipps, Dalton, Ga., on 03 Diamond G Rodeo, 87.5 points, $2,800 each; 3. Justin Miller, Billing, Mont., 84 on Flying U Rodeo's Something Cool, $1,600; 4. Caleb Bennett, Tremonton, Utah, 83 on Big Bend Rodeo's Commotion Toddy, $ 800

Steer Wrestling: 1 Justin Shaffer, Hallsville, Texas, 4.4 seconds $3,200; 2. Nick Guy, Sparta, Wis., 4.8 $2,400; 3.Hunter Cure, Holliday, Texas, 5.4, $1,600; 4. Tanner Milan, Cochrane, Alberta, Canada, 5.6, $800.

Team Roping: 1. Nelson Wyatt, Clanton, Ala./Matt Kasner, Cody, Neb., 4.4.seconds, $ 3,467; 2. Jr. Dees, Aurora, S.D./Tyler McKnight, Wells, Texas, 4.5, $ 2,667; 3 Chad Masters, Cedar Hill, Tenn./Travis Graves, Jay, Okla., 4.6, $1,867.

Saddle Bronc Riding: 1.Jacobs Crawley, Boerne, Texas, 85.5 points on Flying U Dunn Gone with Wrangler, $ 3,200; 2. Zeke Thurston, Big Valley, Alberta, Canada, 84 on Flying U Komatsu King Mountain, $2,400. 3. Sterling Crawley, Stephenville, Texas, 80.5 on Lil Hawk at UT State Games, $1,600; 4. Austin Joseph, Benton, Ky., 71 on Diamond G Babe's Foundation, $800.

Tie-Down Roping: 1. Marty Yates, Stephenville, Texas, 7.6 seconds, $3,200; 2. Tuf Cooper, Weatherford, Texas, 8.5, $2,400; 3. Cooper Martin, Alma, Kan., 8.8, $1,600; 4 Randall Carlisle, Athens, La., 9.7, $800.

Barrel Racing: 1. Kassie Mowry, Dublin, Texas, 17.04 seconds, $3,200; 2. Stevi Hillman, Weatherford, Texas, 17.07, $2,400; 3. Nellie Miller, Cottonwood, Calif., 17.27, $1,600; 4. Kris Gadbois, Escondido, Calif., 17.37, $800.

Bull Riding: 1. Shane Proctor, Grand Coulee, Wash., 89.5 points on Diamond G Rodeo's Tawa II, $3,466; 2. Sage Kimzey, Strong City, Okla., 85 on Diamond G Rodeo's Zion's Lil' America, , $2,666; 3. Joe Frost, Randlett, Utah, 84.5 on Diamond G Rodeo's Da' Magic, $1,866; no other qualified ride.

*Photos available upon request